Stacking and Destacking of 1-5 pallets
PALOMAT® 5 provides semi-automatic stacking and destacking functions and operates completely on AC power.
If you intend to stack and destack multiple pallets simultaneously, up to 5 at a time, and prefer an electric power source, then PALOMAT® 5 is the ideal choice.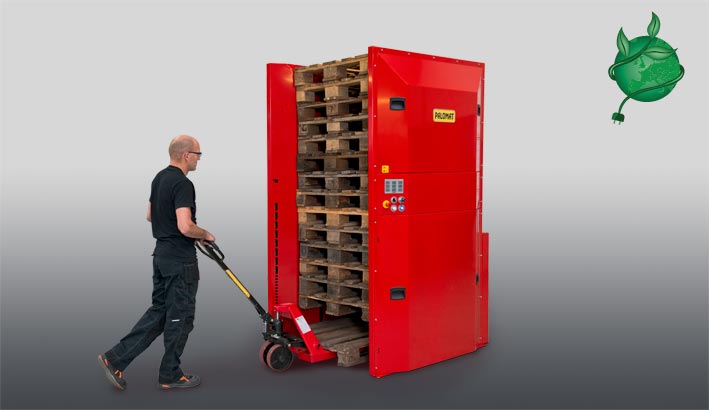 ---
How does the PALOMAT® 5 work?
PALOMAT 5 is an excellent choice for simultaneous stacking and destacking of multiple pallets. You can easily insert or remove 1-5 pallets at a time using a hand pallet truck, electric stacker, or forklift truck while keeping all pallet handling at floor level.
To activate the palletmagazine, simply press the reset button and then the start button. The machine automatically determines whether to stack or destack. PALOMAT 5 can handle 15 to 25 pallets at a time.
For instance, if you want to remove 3 pallets, adjust the knob to "3" and press the reset and start buttons. During the stacking process, it can receive 1-5 pallets at any time.
PALOMAT 5's pallet magazine/pallet dispenser includes an integrated maximum indicator for 15 or 25 pallets. Once 15/25 pallets are loaded, it automatically destacks the entire stack.
The machine can handle all 4-way pallets made of wood, plastic, and metal regardless of their dimensions. Additionally, we can customize PALOMAT 5 to match the exact size of the pallets you use.
---
PALOMAT® Exclusive Features
Order and space savings
Optimized pallet flow
Improved working environment
Saving in pallet costs
Increased efficiency
No manual pallet handling
Reduced absence due to illness
Reduced time used per pallet
Prevention of occupational injuries
Reduced use of trucks

---
Watch PALOMAT® in action...and be inspired
---
View the full range of PALOMAT® products: